Welcome to SSFGC
PROFILE OF THE SOCIETY.

Sri Siddartha Education Society is one of the premier educational societies in the country founded in 1959. It has been offering quality education since its inception. Poojyasri Dr H M Gangadharaiah, the Founder secretary, established educational institutions to cater to the educational needs of the people. The Society is running around 84 educational institutions across the state. The prominent institutions being run by the society are Medical, Dental, Nursing Engineering, Management studies, B.Ed., First grade College, Junior Colleges, High Schools, Hostels, and Pali Schools, Dr Shivaprasad, the Secretary,SSES and Chancellor of Sri Siddartha University and Dr. G Parameshwara Former Minister for Higher Education and joint Secretary of our Society are instrumental in boosting the image and morale of the Society.
Profile of College
Sri siddartha First Grade Colllege was established in the year 1983. Poojyasri Dr H M Gangadharaiah, had vision to impart quality, job-oriented education for those who belong to socially deprived section of the society and to reach the unreached. This is the first college of its kind to 8impart job-oriented courses such as Journalism, Electronics, Computer Science, Sericulture and Psychology, The college does possess well equipped Library, Laboratories and seminar Hall with a provision for sports and games. It is very apparent that more than 50% of the students are form rural background and 40% of the students are girl students.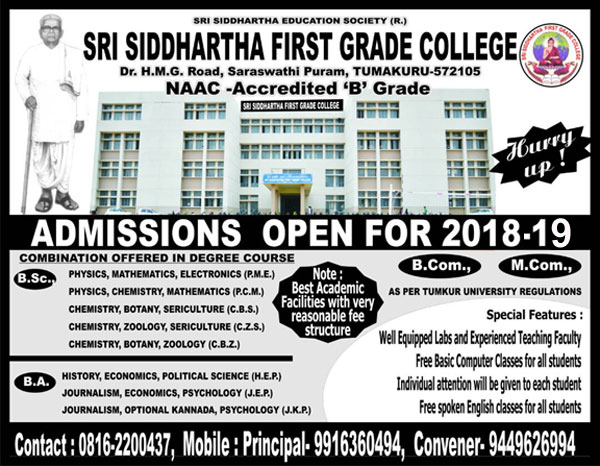 News and Events

International Yoga Day Celebration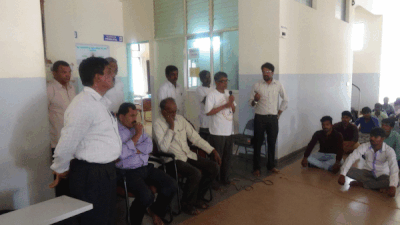 Calender of Events